The uWAVE200 is an ultrasonic generator of easy installation and use, conceived and designed to be used in the most demanding applications such as the industrial ones.
Equipped with two independent outputs US, it allows the driving of any transducer or array of piezoelectric transducers within the selected frequency band in the range 22-60KHz.
Thanks to the microprocessor control system of the latest generation the uWAVE200 implements a particular control algorithm of the 2 outputs US which is able to make the transducers work always in the optimal operating conditions, with accuracy and reliability even under variable work situations for load, temperature or aging of the transducers themselves.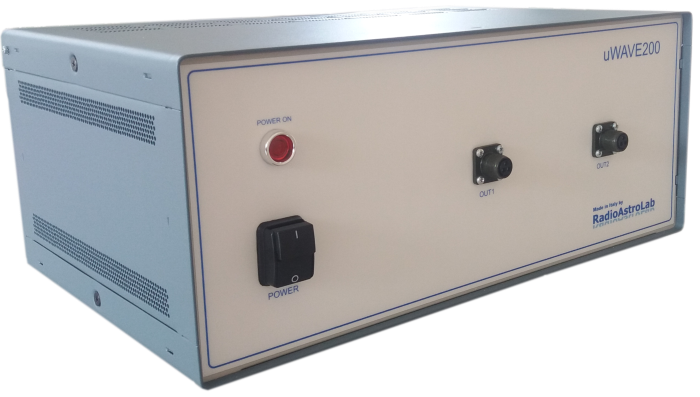 Technical features
Mains power supply 230Vac - 50 / 60Hz with 2 fuses 5x20mm (values to be defined by the application).

EMI filter.

Cooling fan.

ON/OFF switch with light indicator POWER ON.

Two outputs US, OUT1 and OUT2 independent of each other.

Max power manageable by each output: from 100 W to 700 W.

Automatic start of the US outputs when under power.

Automatic hitch on the resonance frequency of the piezoelectric transducer.

Function "sweep mode": linear frequency modulation applied to the output signal with the ability to customize in the factory the maximum frequency deviation with respect to the scanning speed and the nominal coupling frequency.

Function "pulse mode": rectangular amplitude modulation applied to the output signal with the ability to customize in the factory the timing Ton and Toff of the modulation.

Possibility to customize in the factory the power applied to each output circuit.

Thermal protection for the generator circuit: threshold at 50 ° C with automatic reset at 40°C.

Floating outputs US.

Dimensions in mm (L x W x H) 435 x 320 x 180.

All electronics are RoHS compliant.